Easy Brothers and Sisters,
Here are some photos of the work in process of my brand new forgeworld Contemptor Dreadnought Emmure from start to finish all in one post.
Only had a few hiccups during the construction of the model (all self inflicted). All because I wanted to have the option to switch the weapons over in various games. I have the kheres assault launcher and two power fists. The assualt cannon barrels were all separate and very fiddley and require alot of patience and time so dont rush it. Specially have to paying alot of money ;P on such a beautiful model.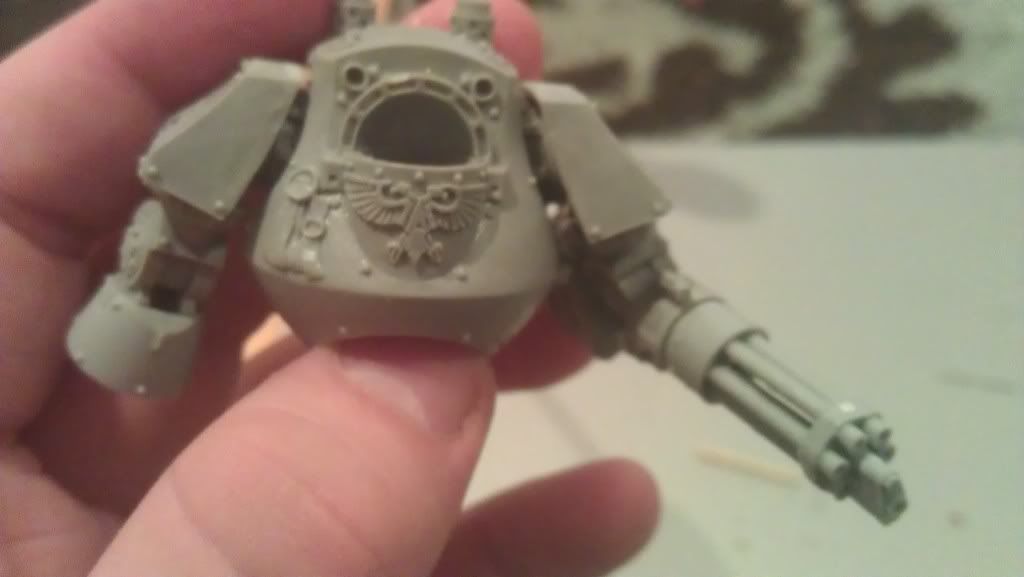 I used magnets for this procedure which needs patience again, due the the magnets been very small, and scalpelling out the holes big enough for the magnet itself. I hold these magnets by using a small ammount of greenstuff/pro create. I learned the hard way in trying to super glue the magnets in.I used 4 x 1.5mm magnets if in uk I purchashed them off ebay for a very good cheap price.
After this process drying I applied a layer of liquid greenstuff because paint does not take well to the metal. Theres no pic yet but I'll try get one soon as possible.
I used cork sheets from my local hobby shop and bark from my local tree ;P ( Make sure the branch is dryed out before applying to model.)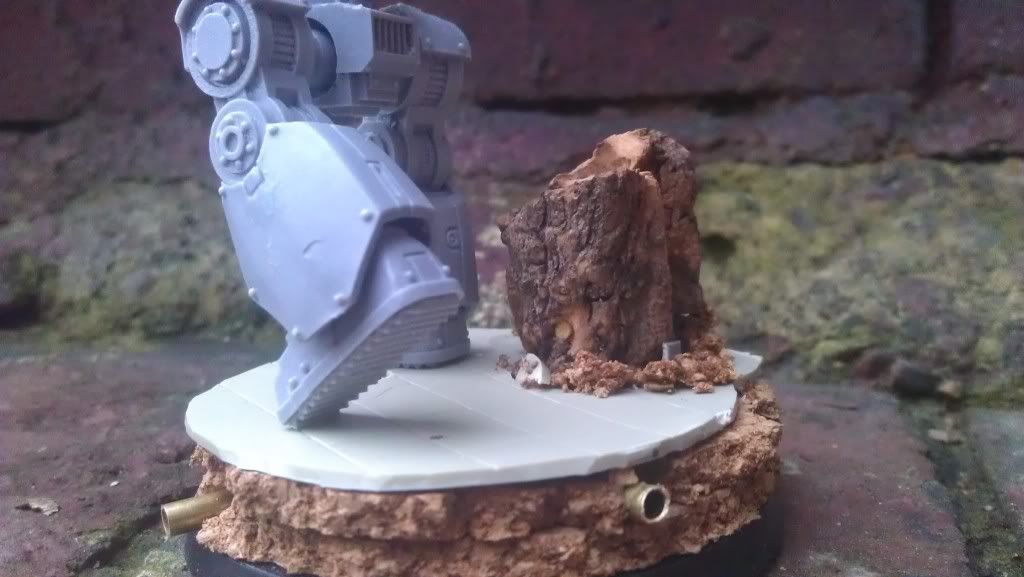 So moving on here are photos of the applied fists that I have cast out of greenstuff, cut down then super glued into place.
So after placing all the fists and finishing the cleaning the model. I added a chain around the chain acting as belt to the loin clothe. I have now removed the purity seals off the back and trimmed the loin clothe down. Here are some the pictures of it modelling stage complete.
I myself would recomend watching a video or reading something to show how to put the model together as it was a awesome model but was a massive paint to put together.
Now the paint application Whoop. Here the photos sorry it took so long.
Thanks for looking people. Any comments or critsm will be welcomed and helpful for future models.
Just putting paint on my own converted sterngaurd.
Peace Spud